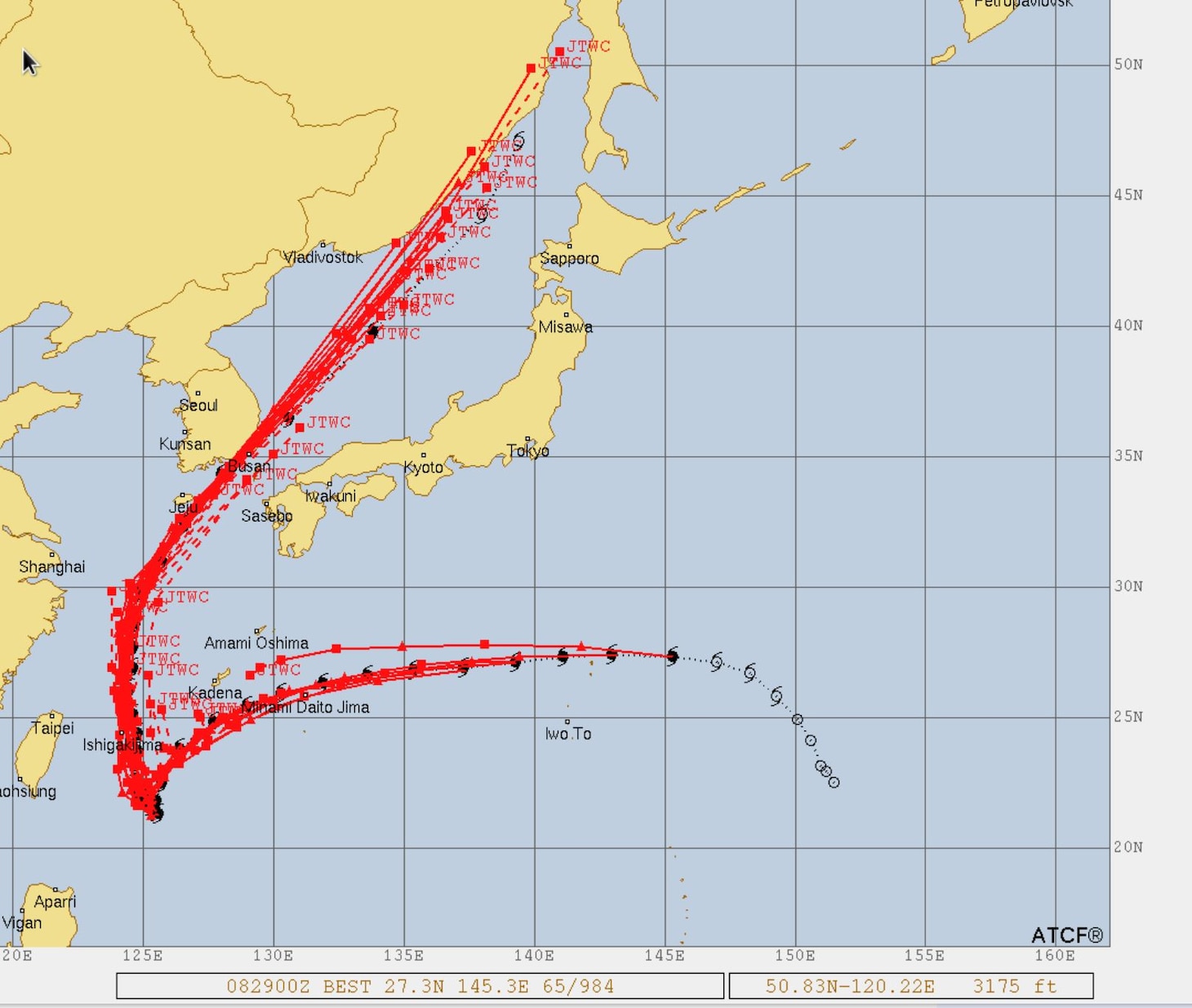 Tracking Super Typhoon Hinnamnor > US Pacific Fleet > News
After a slow start to the 2022 Northwest Pacific Tropical Cyclone (TC) season due to continued La Niña conditions, Hinnamnor formed late on the 28the of August east of Iwo To, and quickly turned into a typhoon during the day.
As the system tracked west with Okinawa Island in its sights, continued intensification allowed Hinnamnor to quickly achieve super typhoon designation. With an estimated peak intensity of 140 knots, 12W has become the strongest TC on the planet so far this year, based on preliminary data.
JTWC's consistent and accurate forecasts allowed operational commanders in Okinawa to continue operations and avoid a restrictive tropical cyclone readiness condition (TCCOR) setting.
CAPTION: Visible image of the 12W Himawari-8 satellite approaching Okinawa on August 30, 2022, just before making a sharp turn southwest and away from landing on Okinawa. (Courtesy of FNMOC)


As 12W intensified rapidly, many models predicted that Hinammnor had the potential to be the strongest TC to pass near Okinawa since Chaba in 2016, sparking great interest in the event. Fortunately, two days before the planned pass, the JTWC forecast locked onto a track that would take 12W to the southwest just before reaching the island.


Indeed, the storm made the predicted sharp turn, with the center of the system only missing the island by 85 miles. A relatively new tool used at JTWC called Synthetic Aperture Radar (SAR), a satellite sensor capable of providing extremely detailed estimates of super typhoon winds from space, provided evidence that Hinnamnor's destructive wind field at that time was extremely compact, further minimizing the potential risk. in Okinawa.


After passing Okinawa, an even more complex and disturbing scenario began to unfold. September 1stJTWC released a forecast calling for Hinnamnor to slow down until it crawls south of the Ryukyu island chain and begin to weaken due to increasingly cooler ocean temperatures, before making a sharp northerly turn in direction of the Korean Peninsula.


According to Mr. Brian Howell, JTWC Typhoon Duty Officer, "Such movement is atypical in this region, where TCs typically move west or curve north". At the same time, the wind field was expected to increase significantly in size, increasing the extent of dangerous winds. The Navy's COAMPS-TC weather forecasting package, another unique capability used in operations at JTWC, signaled an extremely high probability of a redevelopment of a very powerful typhoon.


Three days later, with warmer waters in its path providing fuel for a second round of intensification, Hinnamnor crossed the 100 kt threshold again as it passed nearly 200 miles west of Okinawa. , but this time the much larger wind field brought gale force. winds to parts of Okinawa.




CAPTION: Synthetic Aperture Radar (SAR) image from September 3, 2022, as 12W passed west of Okinawa. The typhoon's wind field had become large enough that Okinawa received high winds (in yellow) a second time. (Courtesy of NRL)


With each new forecast, the JTWC's track forecast continued to focus on the South Korean coast. Projected as one of the strongest tropical cyclones to ever hit the Korean Peninsula, Hinnamnor made landfall less than 40 nautical miles from its predicted location five days earlier.


An 84-knot gust of wind was recorded over Maejuk-Ri Island to the southwest as the system's eye passed over the region, and another SAR pass shortly afterwards also corroborated the forecasts that had consistently called for maximum winds between 80 and 100 knots on landing. . Fortunately, despite the large wind field, the most intense peak winds were confined to a very small area.


Once again, TC's accurate predictions enabled decision makers such as Commander Seventh Fleet, Commander US Forces Korea, 18e Wing and subordinate units must take protective action well in advance of the storm, minimizing damage to high-value military assets.


Naval Forces Korea Weather Officer LT Williams Griffin shared, "JTWC's prognostic reasoning messages have been the most excellent for reading this storm and have really enriched our joint weather conversations here in Korea." Decision makers across the fleet have relied heavily on the information provided by the JTWC.


According to CDR Christopher Tuggle, Commanding Officer of the Naval Oceanography Antisubmarine Warfare Center in Yokosuka, Japan, "The consistency and accuracy [of JTWC warnings] really helped my team with forecasting for Commander Fleet Activities Sasebo (Japan). We had the maximum winds nailed 96 hours before the nearest approach point!


The importance of the forecast was best captured by Pacific Fleet Oceanographer CAPT Ken Wallace, who said, "For most of the year, the Joint Typhoon Warning Center's daily forecast products attract attention of Navy leaders in the Pacific and Indian Oceans.


Super Typhoon 12W was a very powerful and long lasting storm in a complex atmospheric piloting environment and the men and women of JTWC did a masterful job with their track and intensity forecasts. For a very small command, JTWC's impact on fleet operations is enormous and their superb forecasting record is second to none.





LEGEND: All JTWC 5-day forecast tracks (red lines) for Typhoon 12W (Hinnamnor) compared to actual track (black). JTWC's forecast tracks were incredibly accurate throughout the duration of the typhoon.


In addition to its US government clients, Super Typhoon Hinnamnor's unusual track has generated great public interest across the region. The public website JTWC, which hosts its suite of public products and forecasts, recorded more than 2.1 million visits during this storm.


Global press interest was also high, from sources such as the Washington Post's "Weather Gang" team, which highlighted JTWC's forecasting efforts and the potential for major impacts in Korea. (https://www.washingtonpost.com/climate-environment/2022/09/01/super-typhoon-hinnamnor-japan-korea/)


With the Western North Pacific TC season in full swing, JTWC and its partners will have their hands full. In a typical year, this part of the world receives about 30 tropical cyclones, sixteen of them reaching typhoon strength.


"JTWC's military and civilian professionals stand by 24/7 to enable effective and efficient fleet and joint force operations through world-class forecasting, warnings and decision support for American assets in the Pacific and Indian Oceans. I'm proud of the team for their work on Super Typhoon Hinnamnor and every storm we track!" – Commander Dominic DiMaggio, Commander of the Joint Typhoon Warning Center.


The JTWC is staffed jointly by United States Navy and Air Force personnel and falls under the operational control of Commander Task Force 80.7/Commander Naval Meteorology and Oceanography Command under the San Diego Fleet Weather Center. United States Air Force personnel are administratively assigned to the 17th Operational Weather Squadron (OWS), a subordinate squadron of the 1st Weather Group and 557th Weather Wing.


The mission of the Joint Typhoon Warning Center is to enable effective fleet and joint force planning and operations through tropical cyclone (TC) forecasting, warnings, and environmental decision support to U.S. ocean assets. Pacific and Indian, as determined by Commander, US Indo-Pacific Command.


The U.S. Naval Meteorology and Oceanography Command directs and oversees more than 2,500 military and civilian personnel worldwide who collect, process, and use environmental information to help fleet and joint commanders in all war zones make better decisions. , based on guaranteed environmental information, faster than the adversary.


For more information on JTWC: https://www.metoc.navy.mil/jtwc/jtwc.html


Follow Naval Oceanography on Facebook and Instagram (@NavalOceanography), Twitter (@NavyOceans) and LinkedIn.