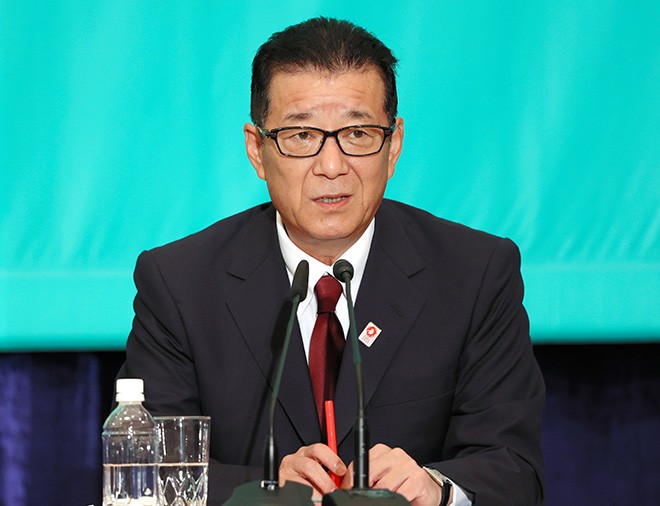 Nippon Ishin calls for 'nuclear sharing' talks for Japan's defense
The opposition Nippon Ishin no Kai (Japan Innovation Party) said Japan should discuss "sharing" possession of nuclear weapons and reassess its three long-standing non-nuclear principles in light of the Russian invasion of Ukraine.
The Osaka-based party will submit its emergency proposals to the government on March 2.
The proposals said a lesson learned from Russia's large-scale military assault on Ukraine is that "a non-nuclear-weapon state is at a higher risk of being invaded by a nuclear state."
The Conservative Party has said that the Japanese government should no longer consider the subject of possessing nuclear weapons as a taboo and should start a debate on sharing possession of the US nuclear arsenal.
On February 28, party leader Ichiro Matsui suggested rethinking the three non-nuclear principles of not possessing, not producing, and not allowing the introduction of nuclear weapons into Japan.
He told reporters that Japan should not insist on sticking to the values ​​of a bygone era when a nuclear power is now waging war.
Nippon Ishin also softened its long-standing stance that nuclear power plants should be "removed". Its proposals said Japan "should consider resuming operations (of nuclear power plants) under certain conditions" to ensure a stable energy supply.
Former Prime Minister Shinzo Abe broached the subject of "nuclear sharing" during a television program broadcast by Fuji Television Network Inc. on February 27, three days after Russia began its invasion.
Abe said shared possession of nuclear weapons should be discussed as an option for Japan to defend its territory and its people.
NATO's concept of nuclear deterrence includes the deployment of US nuclear weapons to certain European member countries when they might be needed.
However, Prime Minister Fumio Kishida rejected Abe's idea during an Upper House Budget Committee meeting on February 28.
"Given our country's stance of adhering to the three non-nuclear principles, we cannot accept (nuclear sharing)," Kishda said.
Kishida reiterated his position at a meeting of the same committee on March 2, citing not only Japan's adherence to the three non-nuclear principles, but also legislation, including the Atomic Energy Basic Law, which states that nuclear energy should only be used for peaceful purposes.
Nippon Ishin made significant gains in the Lower House elections in October last year, becoming the third largest party in the Diet House.
A senior Nippon Ishin official said the party's latest proposals were aimed at attracting voters ahead of Upper House elections this summer who are unhappy with Kishida's reluctance to reevaluate non-nuclear principles.
Yuichiro Tamaki, leader of the Democratic People's Party, another opposition party, said at a press conference on March 1 that Japan should discuss the relevance of the principle of "not allowing the introduction of nuclear weapons".
"Japan cannot accept nuclear submarines or warships loaded with ballistic missiles launched by submarines into its ports, even in an emergency," Tamaki said. "If so, will the (American) nuclear deterrence strategy really work?
"We should properly discuss how strictly Japan should adhere to the principles when the security environment changes."
However, he did not go so far as to support the idea of ​​nuclear sharing.
"(Nuclear sharing) means deploying tactical nuclear weapons in Japan and using them in the country in the event of an invasion," Tamaki said. "We have to carefully consider whether this is realistic or not."
(This article was written by Taro Kotegawa and Tamiyuki Kihara.)