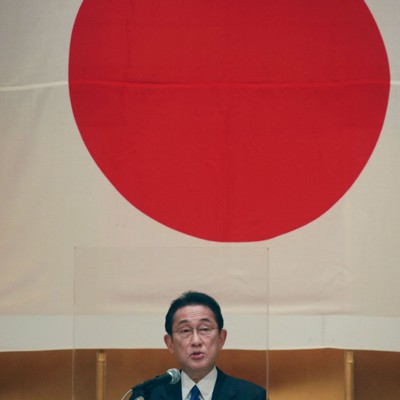 Japanese PM Kishida's top concerns for Biden: Covid, climate and China
Amid growing tensions with China over Taiwan and Japan's worst Covid spike, President Joe Biden is expected to meet Japan's new prime minister virtually on Friday.
The virtual meeting, which will be the first between the two leaders, also comes at a time of heightened tensions in Japan over the US military presence there and how it is contributing to the spread of Covid-19.
Fumio Kishida became Japan's prime minister in October after a decades-long political career that included stints as foreign minister and defense minister. He served in former Prime Minister Shinzo Abe's cabinet and belongs to the same party as his immediate predecessor Yoshihide Suga. His administration is therefore likely to have great continuity with previous rulers.
During a call Thursday to prepare for the leaders' meeting, National Security Adviser Jake Sullivan and Secretary General of Japan's National Security Secretariat Akiba Takeo discussed the importance of the alliance between the two countries, as well as how to approach problems with North Korea, China. , and the wider Indo-Pacific, according to a National Security Council statement. Sullivan and Takeo also "agreed on the importance of solidarity in signaling to Moscow the strong and united response that would result from any attack" on Ukraine.
Biden and Kishida have likely met at least briefly before, given Biden's focus on foreign policy during his long career in government and Kishida's previous service as Japan's foreign minister. But Friday's virtual meeting should be a first step in establishing a personal relationship between the two men, which is essential in Japanese politics, said Zach Cooper, senior fellow at the American Enterprise Institute.
"They really want to make sure the president and the prime minister have a chance to get to know each other. I think that's the No. 1 goal, and everything else is secondary," Cooper said. "The Japanese are always very focused on these personal relationships. They feel this is part of what has worked rather well with recent presidents.
Biden's longstanding relationship with Rahm Emanuel was one reason Japanese officials were happy with his selection as ambassador to Japan, despite partisan skirmishes in the United States over his record of police brutality and violence. race when he was mayor of Chicago. After being confirmed in December, Emanuel traveled to Tokyo on Saturday, overcoming the odds in his political career that was thought to be dead, POLITICO reported.
Cooper predicted that Biden and Kishida will have a "pretty easy relationship. Kishida is a very composed politician, so I think he will be good at interpersonal dynamics.
Friday's virtual meeting between Biden and Kishido is also expected to focus on the importance of tackling climate change and the coronavirus pandemic, the South China Morning Post reported.
Covid-19 cases are soaring in Japan, prompting officials to lock down US military bases in the country. Since Jan. 10, authorities have severely restricted the ability of U.S. troops and families to travel off base except for "essential activities," to try to prevent the spread of the virus from service members to Japanese citizens in surrounding communities. .
On Thursday, the Japanese press reported that 40 Japanese military personnel who traveled to the United States for a joint exercise tested positive. The article says it is unclear how the Japanese troops became infected, but also states that the service members had tested negative before the trip and had not left Camp Pendleton.
Maj. Jim Stenger, a Marine Corps spokesman, said Japanese troops tested positive "during initial testing." He added that all Japanese troops were tested before leaving Japan, and again within 72 hours of arriving in the United States, and that Japanese Defense Force protocol is to quarantine "all cases positive, all close contacts and all close contacts with close contacts". for 14 days.
The dispute over US troops potentially spreading Covid-19 to Japanese communities is the latest in a long line of local complaints against forces, particularly in Okinawa, where most US troops in Japan are based. Cooper said he expects Kishida and Biden to release some sort of joint commentary on the importance of fighting Covid to try to quickly address those concerns.
Jennifer Hlad contributed to this report.