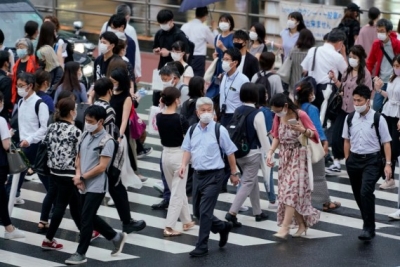 Japanese household spending fell 0.6% in October
Tokyo, December 7 Japanese household spending fell 0.6% real-year-on-year in October, down for the third month in a row, due to a drop in purchases of furniture and other household items, revealed government data Tuesday.
The average consumption of households of two or more people, considered a key indicator of private consumption which accounts for more than half of Japan's gross domestic product, was 281,996 yen ($ 2,500), according to the ministry. of the Interior and Communications.
However, the speed of the decline over the year slowed from the previous month as spending on dining and travel began to rebound after the Covid-19 state of emergency was fully lifted on October 1, according to the Xinhua News Agency citing a government official.
People were told not to go out while restaurants and bars were told to close earlier and not to serve alcohol during the state of emergency.
Spending on culture and recreation fell 5.4%, including domestic packages and accommodations, as the government's "Go To Travel" grant program last year boosted demand for trips.
Meanwhile, transportation spending, including plane tickets and rail fares, rose 15.3%, with data from rail operators showing increase in short-haul travel after the emergency was lifted. , said the official.
On a monthly basis, spending in October was up 3.4% seasonally adjusted from the previous month, following a 5.0% increase in September, increasing for the second consecutive month.
The average monthly income of salaried households of two or more people in October rose 0.4% real year-on-year to 549,269 yen.
Disclaimer: This article was posted automatically from an agency feed without any text changes and has not been reviewed by an editor
Open in app