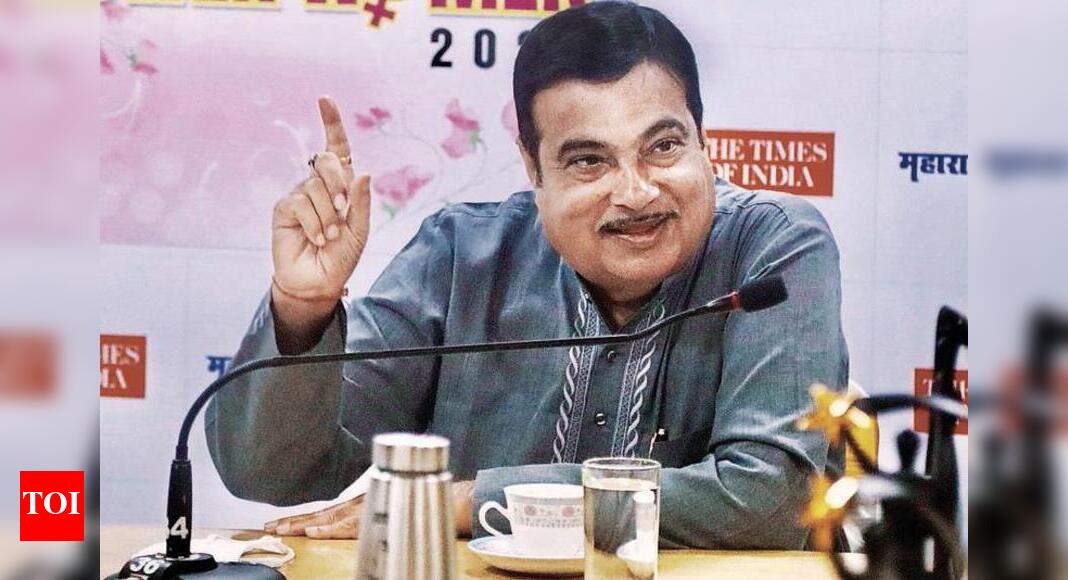 Japanese company rejects Nag River rejuvenation plan: Gadkari | Nagpur News
In a development that would further delay the rejuvenation of the Nag River, the report of the project to reduce its pollution was rejected by the Japan International Cooperation Agency (JICA). This was revealed by Union Minister Nitin Gadkari during his visit to the TOI office recently. However, he said the consultant would prepare another report and submit it to JICA soon. The depollution project has been suspended since 2011.
"After its approval, the tender for the Rs 2,400 crore project would be launched. We plan to produce green hydrogen from its wastewater that would be used as fuel to run vehicles. We are following the issue, although it is not directly in my hands," Gadkari said.
Will win polls in 4 states except Punjab
BJP will win in Uttar Pradesh, Uttarakhand, Goa and Manipur. In Punjab, we have never contested many seats. It was Akali Dai who played the role of the big brother. For the first time, we have nominated our candidates in most constituencies and will emerge as a party to be reckoned with. In UP, the Yogi Adityanath government has brought about phenomenal change in law and order, industries and other sectors. The NHAI is constructing roads there worth Rs 5 lakh crore. By 2024, they would meet US standards. A majority of farmers there are satisfied after selling ethanol – a byproduct of sugar cane, the state's main crop.
* I don't know why Cong is politicizing the PM's speech
There was nothing controversial in Modi's speech that Congress workers staged protests outside my house. In Parliament, the exchange of words is commonplace. Their leaders should have taken the Prime Minister's comments in the right spirit rather than politicizing them.
* Vehicle scrapping policy
Under the new vehicle scrapping policy, there would be two scrapping centers in each district as well as two fitness centers and eight driving schools. I call on private parties to come forward to set up these facilities.
* Airbags and seat belts must
Recently, seven medical students died in a terrible accident when their vehicle fell into a gorge. The vehicle had no airbags. From now on, all small and large vehicles up to eight seats will be equipped with airbags that will save the lives of passengers. We call for airbags and seat belts for better passenger safety, but these are not mandatory.
* Try to reduce water, air and sound pollution
My ministry is also working to reduce water, air and sound pollution. For this, we offer innovative concepts such as the use of electricity, ethanol, LNG, bio-LNG, CNG, bio-CNG and green hydrogen to replace fossil fuels. Water pollution is a serious problem. We have started to clean the Ganges and have had good results. We are studying laws to reduce noise pollution and replace vehicle horns with the sounds of flutes, conks, harmoniums, tabla and other musical instruments. People should wake up with melodious sounds and not irritating sound.
* Cities and towns to be rewarded for increasing greenery
I formed a panel led by former Neeri manager Satish Wate and other experts. I have also requested the remote sensing officers to provide this committee with data for the last five years from the gram panchayat, nagar parishad, town councils and corporations, villages and districts in Maharashtra. Members would check whether greenery has increased or decreased in these areas in any given year. We will be running a contest to congratulate those who have increased green coverage in their respective locations. All citizens should insist on buying electric, LNC, CNG vehicles and avoid petrol/diesel ones which will help reduce pollution considerably.
* Won't even cut a single tree, all to transplant
We have decided not to cut down a single tree for the road projects. I appoint 1,000 contractors for simple transplanting. My friend Dilip Chinchmalatpure recently successfully transplanted a large 50 year old tree in Manewada.
* Rs 1,600 crore for ROB building, RUB as is
We received Rs 1,600 crore in the budget under the Central Reserve Fund (CRF). It will be used for the construction of railways over and under bridges in Maharashtra. Previously, I could only use these funds for NHAI. This year's budget was presented from a national perspective, we cannot single out one particular region like Vidarbha.