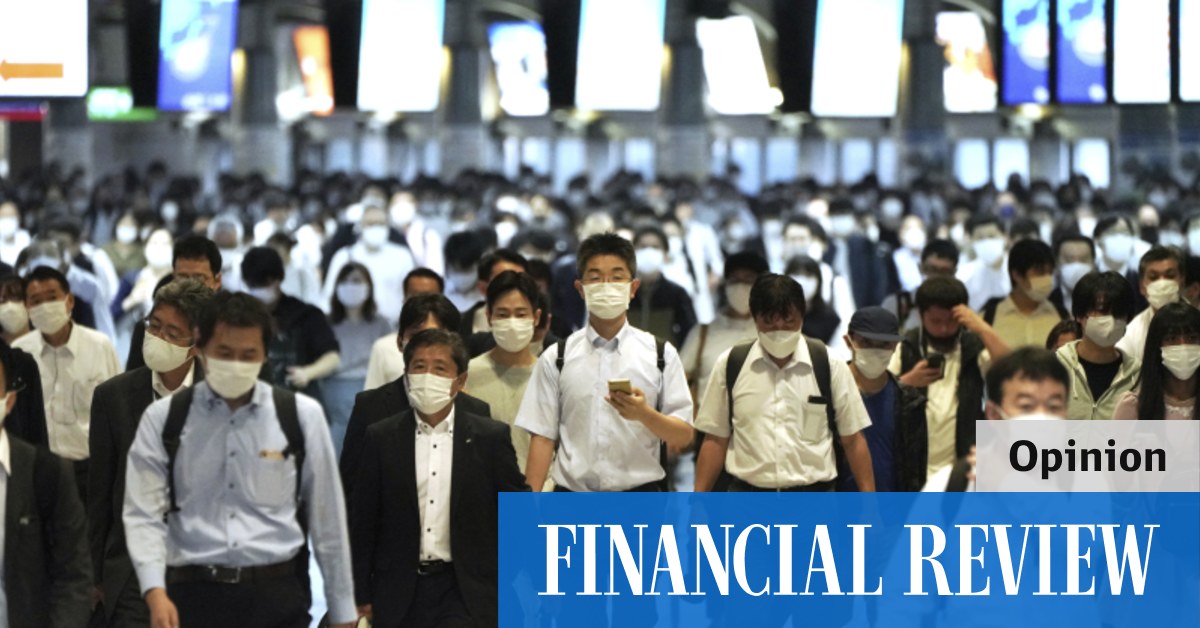 How the pandemic gave Japanese workers a break
Welcome relief for some
Japan is a society that can be insular at the best of times. The number of people who have withdrawn completely from society in Japan has become so large that they have a name – hikikomori. The Japanese government estimates that there are 1 million hikikomori- usually people who still live with their parents and don't leave the house for months or even years at a time.
The pandemic threatens to exacerbate this social condition, but for some young Japanese the restrictions have been a welcome relief from a punitive corporate culture that would force them to stay in the office for long hours and attend compulsory social events. after work.
"All my guys love the pandemic," a senior partner at a law firm in Tokyo told me over dinner last week. "They see working from home as a respite from the crazy hours, pressures of office life and the obligatory piss-ups they have to do with their bosses, colleagues and clients. Now they can stay home and spend time with their family.
I decided to go out for lunch this week and ask some office workers in Tokyo if they thought COVID-19 had triggered a shift in work culture in Japan. Was the era of the famous wage earner – the white-collar workers enslaved to big business – really over?
"My staff have the option of working from home three or four days a week if they wish. They have more free time now, but they also get less overtime pay," Mr. Osawa, a smartly dressed manager of an office equipment company, told me outside an office tower in Roppongi Hills.
Others I met, however, said nothing had changed since the pandemic and they were still in the office most working days. "I work eight to ten hours a day. I don't think it's too long. I still need to be in the office every day to do the banking," Ms. Tamashito, who is in her 30s and works in an accounting firm, told me.
A survey by Persol Research last month showed that 28.5% of full-time employees in Japan were working remotely during the current sixth wave of the pandemic. The rate was much lower for civil servants, at 11.8%. The results also showed that the majority, 80.2%, wanted to continue working remotely even when the pandemic was over.
Although dramatic changes are unlikely in the short term, COVID-19 has at least sparked a debate in Japan about corporate culture and the need to accelerate digitalization in a country where fax machines, endless paperwork and face-to-face meetings are still the norm. .
A more holistic approach
"We have actually had, over the past two years with the pandemic, a very healthy change in workplace behavior in Japan. Previously, it was impossible to go to some large Japanese pension funds and have a phone call. Now you can do it," said Jesper Koll, a former JP Morgan and Merrill Lynch strategist who is now a senior adviser to investment group Japan Catalyst, when I asked him about Japan's ambitions to become a regional financial center.
"The way of doing business has become a little more standard, with faster decision-making [and] no more Zoom calls. Japan was a bit like the Galápagos with a very stiff and rigid trade etiquette. It has subsided now.
Fine, but for the newly arrived reporter in Japan like me, the caution of catching COVID-19 during the pandemic has made it nearly impossible to arrange a face-to-face interview with anyone. Sometimes I wonder if that's just a good excuse.
A high-level businesswoman told me that we could write something for August. A politician I was willing to cross the country to see suggested a Zoom call. To my surprise, DJ Sumirock, an 86-year-old woman named Sumiko Iwamura who recently rose to fame after appearing in a Netflix documentary, first agreed to meet me despite her vulnerable age. That was until his agent stepped in and said I should pay for an interview.
Others are ready to catch up, although there are limits. This week, I met a former Japanese diplomat for lunch. The clear Plexiglas sheet between us and the fact that he was wearing two masks meant it was hard to hear what he was saying. At the end of it all, we stood up again and he shook my hand.
Still, I was grateful for any kind of reunion.