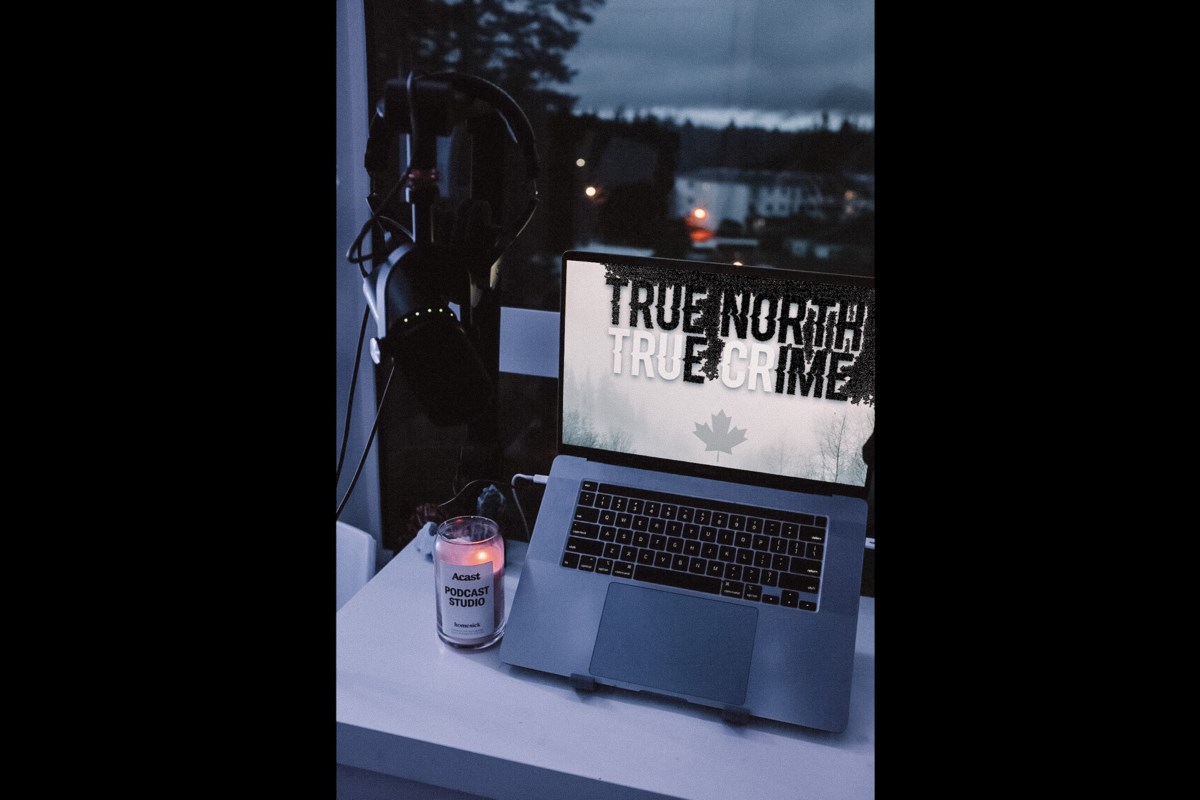 Go behind the scenes of the True North True Crime podcast
True North True Crime finds its voice as a victim-centric true crime podcast.
During the pandemic lockdown days, some people have adopted a new fitness routine; others learned to knit or bake sourdough bread.
Vancouver Island-based couple Caitlin and Graeme launched the True Crime Podcast True North True Crime.
(Because the nature of their podcast puts their safety at risk, Chief Squamish has agreed to use only their first names.)
If you follow Canadian true crime podcasts, you've probably heard them. Since their launch in 2020, they have produced 46 episodes and amassed 1.5 million downloads.
They focus on a wide range of cases in British Columbia and Canada, often at the request of the victim's family.
Chief Squamish caught up with Graeme after the couple had just dropped the Madison Scott episode, about the 20-year-old who attended a party at a campground south of Vanderhoof on May 27, 2011 and didn't never came home.
What follows is an edited version of this wide-ranging conversation that delved into the creation of the podcast, the cases they cover, and why.
What is it about true crime that drew you to it?
I've always had a healthy appetite for understanding the facts, why things happen and what causes them.
With our podcast, we would never, you know, in the mind of a crazy person or in the mind of a serial killer. We are not interested. We are interested in the causes and conditions that create the environment for a crime to occur, starting in the person's life, then working backwards, out.
I also lived a long time in Victoria. I was there for the disappearance of Michael Dunahee (1991), Darren Huenemann setting up the murder of his mother and grandmother (1990) and the murder of Reena Virk (1997).
Curiously, Victoria was a real hotbed for a unique type of crime that was sometimes run by young people. And so, I had a healthy fascination with wanting to understand why these things happened.
What did you learn about the functioning of the judicial system through these cases?
With a case like Natsumi Kogawa, who was killed by William Schneider, he admitted murder. And now it's going through the Supreme Court with appeals and victories. I realized that Kogawa's family, who live in Japan, are more victimized by the Canadian legal system, because of the Schneider Charter rights that exist. It's interesting with the criminal justice system to sometimes see what we think is justice done, but that's not the case because of the parole and appeals process.
That's why when we cover murders that are already solved and brought to justice, we tend to cover those for which we want the audience to be able to ask the question, "Has justice been served? ? »
What are some of the other takeaways on the system that you've learned?
In restorative justice, there is the participation of the victim, the offender and the community. Whereas in our criminal justice system there is involvement of the offender and the lawyers, and maybe a jury, but sometimes there is a trial before a judge.
The victim is in fact one of the last voices to be heard. Victim impact statements only became part of the justice system in the last decade. And they are mainly used for sentencing.
[The Canadian Victims Bill of Rights came into force on July 23, 2015. This act gives every victim the right to present a victim impact statement.]
I believe we have erased victims from the justice system. And I know Crown attorneys do their best to represent them, but really, it comes down to an agreed-upon statement of facts.
Some true crimes can be very sensational, but yours is very victim-centric and you often work with families. Have you established an ethical framework?
We had a discussion to establish our values ​​as a podcast before launching. And we both really liked the idea of ​​"Primum non nocere", the Hippocratic oath – first, do no harm.
It is a goal to ensure that what we do is not sensationalized and does not take advantage of people who have already been exploited. And that we don't center the offenders in the story.
We have also given up giving our opinions and talking about ourselves.
We are simply telling the facts of the case.
The cases you present are very diverse and most are not very well known. How do you approach case selection?
Diversity in Canada takes many forms. First, there is geographic diversity. And you know, in our early episodes, we really started near BC because that's what we knew. But Canada is a giant country with a lot of people. So we needed to bring geographic diversity, but we also prioritize amplifying the voices that aren't heard. Sometimes there will be a case that will spend a few minutes or two on the news and then it will go away.
And that's right; it's just the nature of news.
But with the podcast, we have a unique opportunity to present a 35 or 50 minute deep dive into the case. This allows family members to tell us who that person was. So we want to find cases that are less talked about or that have fallen into oblivion, such as Missing and Murdered Indigenous Women and Girls (MMIWG), and Missing and Murdered Indigenous Boys and Men.
We look at stories through multiple lenses of diversity, whether it's geography, socio-economic status, gender-based violence, mental health, substance abuse, race and ethnicity .
Through the podcast, you get to see up close that a lot of really awful things happen in life. How do you make a story and then go get a bagel and a coffee?
Caitlin is very good at it. She is very empathetic, she is very caring. She is very understanding at the time; when we listen to a family member's audio, she will cry, or she will see the injustice of it all, and then she will be fine afterwards.
Some stories haunt me. The story of Lise Fredette who was 74 years old and who was murdered by a man who was stalking her in Peterborough, Ontario, a moment ago when I was talking to her adult son when he said, "I saw her walking down the aisle and that was the last time I saw my mom." And, honestly, that audio played in my head every day for weeks.
I have a history of working in social work, and I continue to work in that world. So I'm also able, in the moment, to be one-on-one with the person – I'm there for whatever happens. But I'm also able to compartmentalize it and say that was then and now we have to move on – to keep our goal in mind. But at the same time, I highly recommend therapy.
It's a heavy thing. But your podcasts could really help some of these families.
Yes. Among our cases is Cory Westcott, missing from Nelson, BC. Her mom ended up connecting with Please Bring Me Home after our podcast.
Along with Geraldine Settee, one of the oldest unsolved MMIWG cases in modern Canadian history, a retired police officer agreed to help the family after our episode. And then Teaghan Coutts, who was abducted by her grandparents and taken to Turkey, she finds herself back home, and I think we were the only podcast to cover her case. I know there was a lot of work behind the scenes – we clearly didn't solve the crime – but we helped by gradually joining the conversation.
There are literally millions of podcasts out there. Were you surprised by your success?
Yeah, absolutely blown away. … We entered the podcast space in 2020, during a pandemic, when everyone started a podcast.
We stumbled and fumbled through those early episodes and then had friends like bigger podcasts like Generation Why True Crime Podcast, from Kansas and Michael Whelan made Unresolved from Alaska, and of course Kristi Lee, from Canadian True Crime who were so nice to us and gave us shouts.
We kind of continued to use those moments as confidence boosters to continue what we were doing.
And then in the summer of 2021, so a year after our launch, we started to see some growth. And we were approached by Acast to be part of their Canadian network.
If local families want to contact you, how do they do it?
There are a few cases in Squamish that we would like to help amplify if there are people who want to tell us about them. We would be interested in taking another deep dive into Marshal Iwaasa and there is the historical case of Kathleen Vauden Kermode and the missing man, Daniel Roche.
To reach the podcasters, email [email protected]
Find the podcast at https://linktr.ee/truenorthtruecrime.