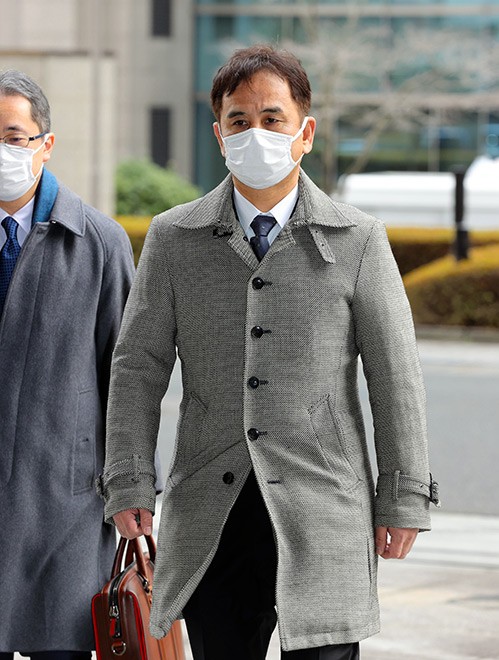 Former Komeito MP admits illegal loan scheme in court
Former Komeito lawmaker Kiyohiko Toyama admitted in his first hearing in Tokyo District Court on Feb. 14 that he illegally helped secure loans for businesses while in public office.
Toyama, 52, was charged without arrest with illegally arranging government-backed loans and violating the Money Lending Control Act on Dec. 28.
"I deeply regret the distrust of government that has arisen because of my actions," he said during the first session of the trial.
This is believed to be the first case in which a current or former member of the Diet has faced these charges.
Toyama admitted to Tokyo prosecutors that he received about 10 million yen ($86,600) from companies as fees for intermediating the loans.
According to court documents and elsewhere, Toyama informed Japan Finance Corp. through two of his state-funded assistants to businesses and sole proprietors who wanted to get loans due to the novel coronavirus crisis.
Toyama also informed a company of a person who was overseeing loans at a local branch of Japan Finance.
Toyama himself negotiated 82 loans from March 2020 to June 2021, according to the documents.
Toyama had also conspired with Atsushi Maki, 74, who was an adviser to Techno System Co., which is a Yokohama-based company linked to the solar energy industry, according to the documents. Along with Maki, who was charged on the same count, Toyama had negotiated 29 loans without registering from April 2020 to January 2021, the documents show.
Maki, along with Akira Shibuya, 61, a former political aide to former Komeito lower house member Masataka Ota, and Yutaka Kawashima, 78, another Techno System Co. adviser, were charged without arrest .
The three are expected to admit the charges at trial.
According to investigative sources, all three, like Toyama, received kickbacks from the companies.