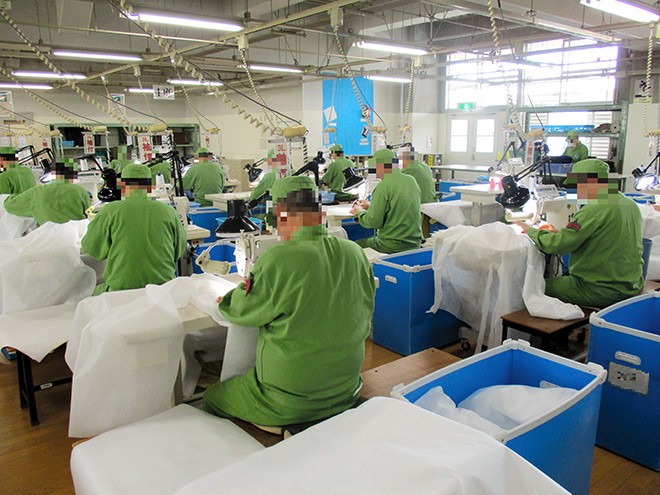 EDITORIAL: Revised Penal Code Should Help Reintegrate Inmates
The Diet passed a revision of the penal code to integrate two categories of detention – "choeki" and "kinko" – into one called "kokin".
The revision removed the traditional classification into two types of imprisonment, which had been part of the country's criminal justice system since the Meiji era (1868-1912).
The change aims to promote the rehabilitation of criminals by providing programs that are better adapted to the needs and characteristics of each inmate.
Most of the approximately 40,000 detainees will be released sooner or later. Improving the effectiveness of systems both inside and outside prisons is essential to prepare offenders for successful reintegration into society after release so that they do not commit further crimes.
Choeki, which means imprisonment with penitentiary labor, constitutes most of the prison sentences for deprivation of liberty imposed in this country.
Kinko, in comparison, means imprisonment without work. Choeki forces prisoners to perform designated jobs. This inevitably reduces the time they devote to activities useful to rehabilitation, such as reflection on their life story or discussions with other prisoners.
The prison labor requirement also raises the question of how to ensure compliance with the obligation by elderly or disabled prisoners who find it difficult to work.
The revised penal code states that criminals sentenced to the new penalty of kokin (imprisonment) may be required to do "work" or receive "guidance". This provides a legal basis for flexibly combining work and education programs for prisoners.
Japan's choeki penalty, which requires prison labor, has been criticized internationally. Many developed countries do not impose such an obligation to work on prisoners in accordance with an international treaty that prohibits forced labor. The revision, however, does not solve this problem.
On the other hand, working in prison helps prisoners to feel connected to society and to acquire skills that can be used outside of prison. Many offenders serving kinko sentences choose to work for their own benefit even though they are not required to do so.
At the start of the COVID-19 pandemic, Japanese prisons began manufacturing medical gowns in response to a shortage of hospital gowns worn by medical professionals as personal protective equipment. The news caught the public's attention.
The work program for offenders can be used to address a labor shortage in specific areas, but it should not threaten private sector businesses. It can also provide inmates with the opportunity to learn useful job skills.
Such efforts could strengthen the motivation of offenders and help them to become financially independent after their release.
Rehabilitation programs for sex offenders and drug addicts based on cognitive-behavioral therapies have become established over the past ten years.
Successful efforts to help offenders of other types reflect on their crimes and prevent them from reoffending also require highly trained personnel. It is important that prisons seek the support of outside experts.
Sufficient funding is also necessary to enable all prisoners to access the programs in which they wish to participate.
In 2020, 58% of all prisoners in Japan were repeat offenders, although the ratio has since declined somewhat. In many cases, they return to prison committing minor crimes because they fail to reintegrate into society. Such cases should be called "social imprisonment".
Our society, for its part, should be more willing to welcome released offenders to prevent them from isolating themselves. We should change our mentality and our attitude towards the rehabilitation of prisoners while promoting facilities to help them reintegrate into the community.
–The Asahi Shimbun, June 14