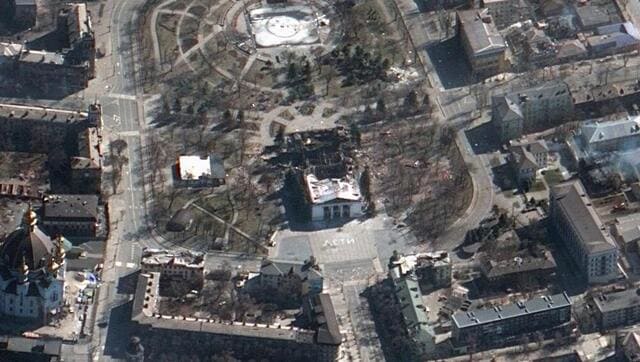 Does the road to end the war in Ukraine go through Delhi?
The message that India has conveyed is quite transparent. He would like to stay out of Cold War politics. He would not abandon his strategic partnership with Russia or the United States
This satellite image provided by Maxar Technologies on March 19 shows the aftermath of the airstrike on the Mariupol Drama Theater in Ukraine and the area around it. PA
Many political leaders or senior officials from globally influential countries have either visited Delhi or had intense virtual conversations with their Indian counterparts in recent days.
The main focus of all these conversations has been the ongoing war in Ukraine, India's political position on the Russian invasion or the far-reaching Western sanctions against Russia and to some extent its impact on the peace and stability in the Indo-Pacific region.
What is significant is that leaders on both sides of the strategic divide have worked hard to make the Indian government understand their views and policies on the Ukraine issue. Chinese Foreign Minister Wang Yi and Russian Foreign Minister Sergei Lavrov landed in Delhi to discuss their approaches. And, on the other hand, Japanese Prime Minister Fumio Kishida visited Delhi and Australian Prime Minister Scott Morrison had summit interactions with Indian Prime Minister. US deputy national security adviser Daleep Singh, German foreign and security policy adviser Jens Plotner and British foreign secretary Liz Truss are other senior officials who visited Delhi and held talks intense with Indian leaders and senior officials.
On the surface, such deep diplomatic exchanges give the impression that the Indian government is in possession of the magic wand that can end the war in Ukraine, bring Russian troops home, bridge the growing rift between the United and Russia, make Europe more peaceful and restore the territorial integrity of Ukraine's sovereignty.
Nothing like this is actually going to materialize in the foreseeable future. The reality is that the new cold warriors tried to keep India on their side in the very complex new cold war that took shape following the Russian military invasion of Ukraine and a united western front made up NATO member countries, Japan and Australia. seeking to politically isolate Russia and economically inflict massive damage on the Russian economy.
Russia and China wish to keep alive the Russia-China-India triangular diplomatic arrangement, the Shanghai Cooperation Organization (SCO) and the BRICS (Brazil, Russia, China and South Africa) Forum and maintain the India's commitment. The United States, Japan and Australia, meanwhile, want India to participate fully in the Quad Security Dialogue Forum.
***
Read also
The Ukraine crisis: how India stands to gain from its neutral stance in the future
India's Russian policy has been perfect so far, but to move forward it must break free from dependency for true strategic autonomy
Big lesson for India from the war in Ukraine: there is nothing bigger for a country than its national interests
As Putin plays Russian roulette in Ukraine, Indian diplomacy treads a fine line
Putin's Ukraine War: First Military Lessons for India from the Russian Invasion
How the Russian-Ukrainian conflict complicated an already complex geopolitics
Ghost place | How the opposition criticizes the Modi government's handling of the crisis does not hold up
Russia's war in Ukraine: How India's vote in the UN Security Council was pragmatic
Russian-Ukrainian crisis: Here's what will cost India more if two countries go to war
The meta-narrative of India's non-involvement in the Ukrainian imbroglio
India's abstinence from UN Security Council vote on Ukraine was the right move
***
Despite the deep division between China and India due to the conflict of interests along the long line of actual control, China is unwilling to take steps that would push India entirely into the Western camp. In long-term geopolitical calculations, Beijing doesn't think it would be in China's interest to see a country like India get too close to the United States. China's behavior would certainly have been different had there not been economic confrontations in Sino-US relations since the Trump era.
Russia's strategic calculation is quite clear. India is not only a big defense market, but also one of the few leading countries that has a good, simple relationship with it. Russian frustration with the growing size of the Indian market for US military sales is palpable and if India is not retained as a strategic partner it will be a huge political, diplomatic and economic loss for Moscow.
It is this reasoning that explains Russia's praise for India when India's representative abstained from voting on anti-Russian resolutions at the United Nations and Moscow's studied silence when India also abstained. on Moscow-sponsored resolutions at the United Nations. Russia's offer of cheap energy is neither desperate nor bribing India for its positions on Ukrainian issues. It has more complex dimensions and estimates of long-term interests.
Why the US, Japan, Australia, UK and Germany are having rocky diplomatic talks with India is also not hard to decipher. Significantly, Russia and China have different motives for cultivating India now, but the US and its allies are on the same page. While the United Kingdom and Germany are members of NATO, Japan and Australia have signed bilateral alliance treaties with the United States. The primary motivation of all these powers is to prevent a recent strategic partner like India from taking a markedly different stance from their approach to punishing Russia for what it has done to a NATO partner country.
A rigorous analysis of the facts would reveal that Indian support for Western-sponsored resolutions at the UN condemning the Russian invasion of Ukraine would not have changed the realities on the ground in that country or impacted the decision-making in Moscow. Before intervening in Ukraine, President Vladimir Putin may have consulted Chinese President Xi Jinping about his plan when he attended the Beijing Olympics in the face of a Western diplomatic boycott. He certainly did not confide in Prime Minister Narendra Modi. He would have been advised to refrain from such an action, if he had done so. And the Western powers know it. It is also well known that India's purchase of Russian energy would not put a dent in Western sanctions against Russia.
Why then is there so much diplomatic density and political pressure on India to distance itself from Russia and fully agree with Western sanctions policy? After considerable fissures and difficulties, the Western bloc came together and the United States found in the Ukraine war an opportunity to reassert its power and influence in the world. So is maintaining strategic partners like India in the liberal world order that the United States seeks to rebuild after recent holes and once again at the helm of world affairs. The political symbolism and not the need for Indian cooperation to economically punish Russia informs the Western motive to urge India to change diplomatic course.
The message that India has conveyed is quite transparent. He would like to stay out of Cold War politics. He would not abandon his strategic partnership with Russia or the United States. India's policy does not hinder US policy on Ukraine and does not help Russia resist Western economic warfare. India's policy therefore cannot be called neutrality or non-alignment. It is a pure and simple demonstration of strategic autonomy in consideration of the national interest of the country.
The author is a professor at Jawaharlal Nehru University. The opinions expressed are personal.
Read all Recent news, New trends, Cricket News, bollywood news,
India News and Entertainment News here. follow us on Facebook, Twitter and instagram.