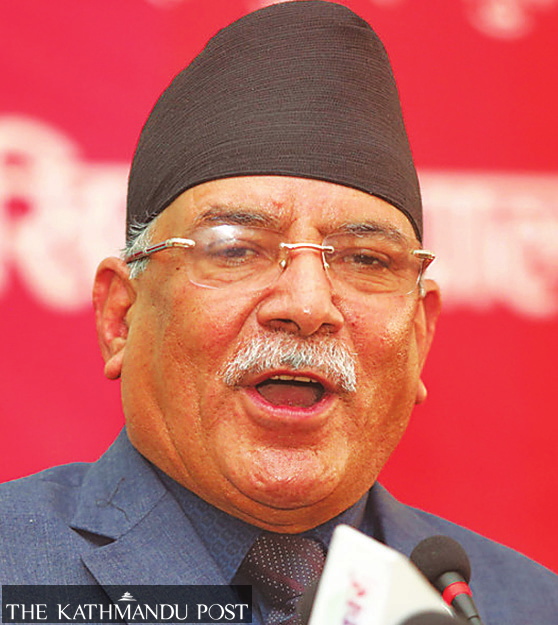 Dahal's misstep in Japan when meeting slain Japanese Prime Minister Abe in Nepal
Chairman of the CPN (Maoist Center) and former Prime Minister Pushpa Kamal Dahal misstep in Japan on Saturday during his meetings with slain former Prime Minister Shinzo Abe in Nepal, only to correct himself a few hours later.
After arriving in Japan on Saturday, Dahal said that when former Japanese Prime Minister Abe visited Nepal, he had a conversation two or three times.
"I was trying to find a time to meet former Prime Minister Abe when I was supposed to come to Japan," Dahal said when speaking to reporters at Narita airport. "I had a good conversation with him during his visit to Nepal. We had a very good interaction. »
Abe, who died July 8 after being shot by a gunman, however, never visited Nepal.
He was 67 years old.
Abe, who served as prime minister from September 26, 2006 to September 26, 2007 and from December 26, 2012 to September 16, 2020, is Japan's longest serving prime minister.
Later that day, at the inauguration of the Nepal Festival 2022 in Fukuoka, Japan, Dahal corrected himself, saying he was in touch and had a conversation with Abe through different channels.
"The decision to visit Japan was taken about a month and a half ago," Dahal said while addressing the Nepalese diaspora. "At that time, I was in touch and in conversation with Abe in various ways. I had conveyed my desire to meet him through the Japanese Embassy. But he had a very unfortunate death.
Dahal arrived in Japan on Friday for a five-day visit.
According to Japanese Embassy in Kathmandu, the only incumbent Prime Minister to visit Nepal is Yoshiro Mori who arrived in Nepal in August 2000, marking the first official visit by a Japanese Prime Minister.
Nepalese politicians are often criticized for making unsubstantiated claims and speaking loosely.
Some social media users were quick to react on Saturday to Dahal's claims about his meetings with Abe in Nepal. Some have dubbed him a deceitful politician.
The duplicity of the Maoist leader, who waged the decade-long bloody war, was widely reported earlier in February this year when his refusal to write a letter to the United States about the Millennium Challenge Corporation was exposed.