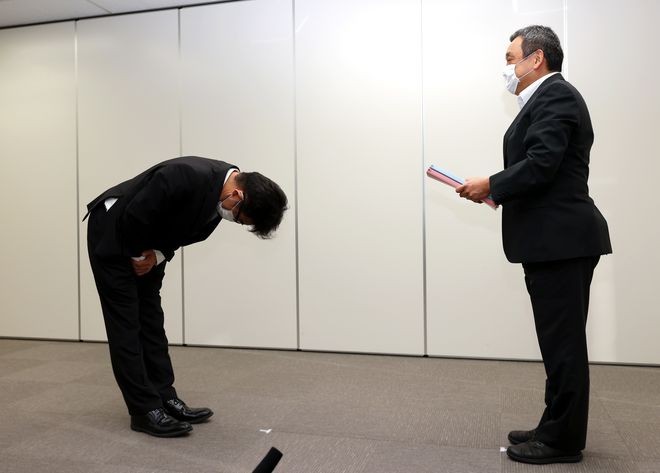 Atmosphere that stifles opinions behind corporate scandals
Three recent scandals that rocked Japan Inc. shared a common underlying element: a corporate atmosphere that made it nearly impossible for employees to voice their opinions to their bosses.
Scandal inspection reports showed that management was uninterested in workers' opinions and unaware of internal issues, while lower-level employees were mostly concerned with doing what they wanted. thought their superiors wanted.
In June, it emerged that Mitsubishi Electric Corp. had falsified quality control data on equipment supplied to railroad companies for more than 30 years.
The company's investigative committee reported testimony from employees who knew about the forgeries but felt they could not raise objections.
"It was not that the company itself was untrustworthy, but rather that I had no confidence in the senior officials in my job," a worker who told the inquiry commission. decided not to denounce. "They were just focused on covering up the issues and protecting themselves in the higher ranks."
Another person noted that Mitsubishi Electric's countermeasures against past issues were worth next to nothing.
"Besides the falsified quality issue, labor issues have repeatedly erupted," the employee said. "Although the company has apparently taken action whenever such an issue has arisen, it has not made any changes to our working conditions."
When more than 4,000 Mizuho Bank ATMs broke down in February 2021, the financial institute failed to quickly relay information to its customers and management.
Koji Fujiwara, chairman of Mizuho Bank, reportedly learned of the ATM outage through an online news article.
A company inspection report, which included the results of a questionnaire survey, indicated that one of the causes of the problem was the tendency of workers to pay attention only to the feelings of senior officials.
"We don't put customers first and put efficiency and management intentions first," said one survey respondent. "Our less profitable retail department is facing heavy pressure to cut costs in particular, resulting in reduced funds to keep their system online."
Another worker explained that the opinions of lower-level employees are not conveyed to Mizuho Bank headquarters and that many decisions are based solely on management's intended intentions.
"Management's inward-facing stance and reliance on precedent without taking risks is problematic," the employee said. "We were instructed not to explain details to customers at the time of the ATM crash."
NUCLEAR SAFETY IN DANGER
Tokyo Electric Power Co. is preparing to restart the Kashiwazaki-Kariwa nuclear power plant in Niigata prefecture.
But an employee was found to have used another person's ID card to enter the station's central control room in 2020, highlighting a continuing gap in security measures to stop intruders.
A report released in September by an independent panel highlights the frustrations of power company staff.
TEPCO workers were asked through a questionnaire if there was "a corporate climate in which one cannot give an honest opinion". About 27% of people working at the Kashiwazaki-Kariwa plant either totally or somewhat agreed with this statement.
"As an atomic energy operator, the company lacks nuclear security awareness," wrote one questionnaire respondent. "The organization tries to avoid all responsibility and leaves everything to the individuals. It assumes no responsibility as an organization.
TEPCO, operator of the crippled Fukushima No. 1 nuclear power plant, had previously been involved in covering up problems and fabricating data at its nuclear facilities.
The company's less open atmosphere has been criticized on several occasions, but there seem to be no signs of improvement.
One questionnaire respondent said that TEPCO employees have a "deep-rooted excessive tendency" to behave in accordance with the intentions of their supervisors, and the tendency is "particularly prominent" among those in leadership positions at TEPCO headquarters.
Another TEPCO employee said the "authoritarian" position of senior officials makes it difficult to create an atmosphere in which workers can express their views.
"Executives are rubbish and do not understand the real situation in the facilities," the employee wrote in the questionnaire. "Even if we submit opinions and proposals, they cannot understand them. So I have the feeling that it makes no sense and serves no purpose.
LONG WAY TO GO
All three companies said they were stepping up their efforts to prevent a recurrence, but their internal inspections indicate they face uphill battles.
"I never thought it had become easier for us to express our opinions," said a Mitsubishi Electric employee. "The staff causing the problems have not taken responsibility, but measures are being developed to prevent this from happening again. The nature of the organization will never change in this way.
Hideaki Kubori, a lawyer familiar with corporate governance, said an effective whistleblower system was needed to break corporate traditions.
"If whistleblowers are freed from blame and given promotions, information about possible issues could be collected," Kubori said. "The phrase 'reforming the business climate' is often used as a catchphrase, but taking concrete steps, such as putting in place a whistleblower protection mechanism, is essential to achieving this goal. ."
(This article was written by Satoshi Shinden and Hisashi Naito.)